Oh Tomatoes, how do I love thee, Let me count the ways. I haven't always felt this way about tomatoes. Early in my youth, I couldn't appreciate them for what they really were- magic. But one thing I did always enjoy, was a warm bowl of tomato soup on a cold day, and when I tell you I'm a lover a soup- I mean it.
A hearty soup is just something that sticks to your bones. Creamy, full bodied, well seasoned. Gimme. It's one of those meals that brings me comfort and joy. And these days, I'm all about comfort and joy.
I made this soup with locally grown tomatoes, and when I tell you I could taste the difference, wowsa!! Do yourself a favor and get into locally produced eats. It will change your foodie life. I made it a point to grab locally produce items whenever I can. Whether it be farmers markets, through neighborhood swaps, or supporting local artisans, I try my best to use and try out what is available to me seasonally. And when I can, I preserve and freeze the goodness, so that I can have tasty treats like hearty Roma Tomatoes for an amazing soup in the winter.
I gathered up some of the best tomatoes I could find, roasted them up and blended up an homemade soup. Roasted Tomato Basil Soup pairs well with our families current addiction of grilled cheese sandwiches. What a match made in tummy heaven. This recipe is in my #almostvegan series, meaning that it can be made vegan should you choose. Switch out the butter and milk for vegan friendly options.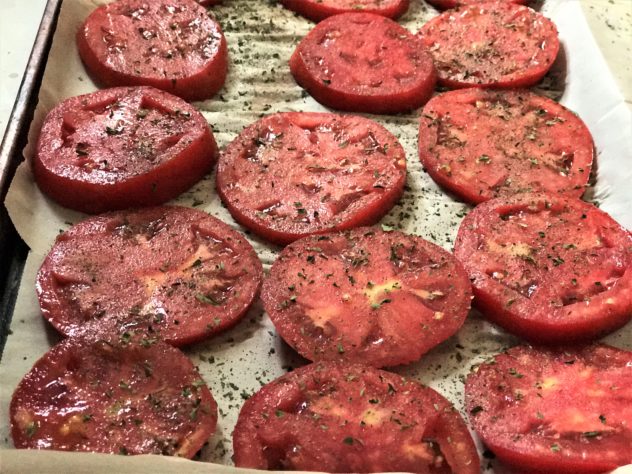 Grab the recipe for my Roasted Tomato Basil Soup, and celebrate Tomato love.
Happy eating, friends.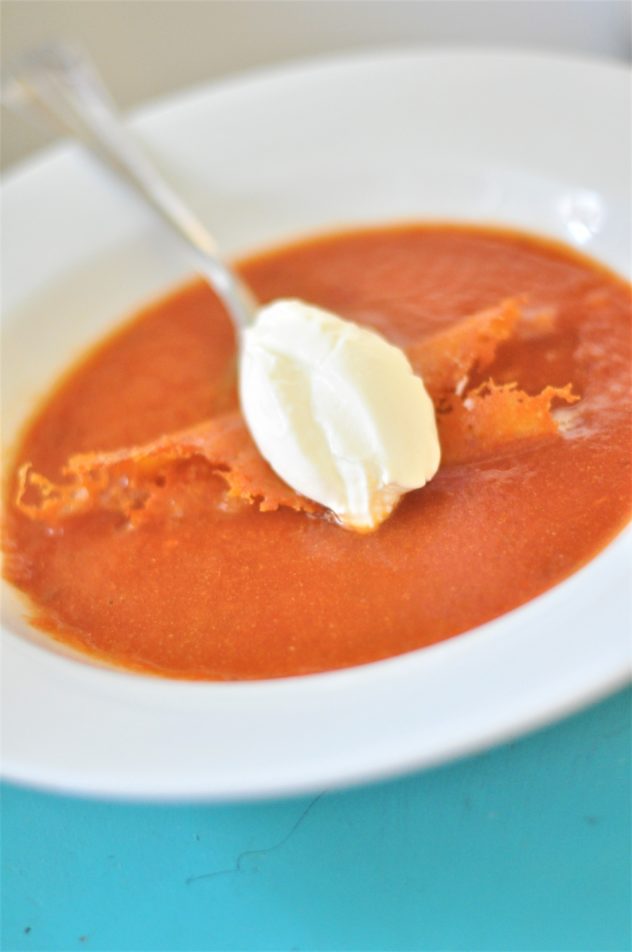 Roasted Tomato Basil Soup
2018-01-18 03:19:01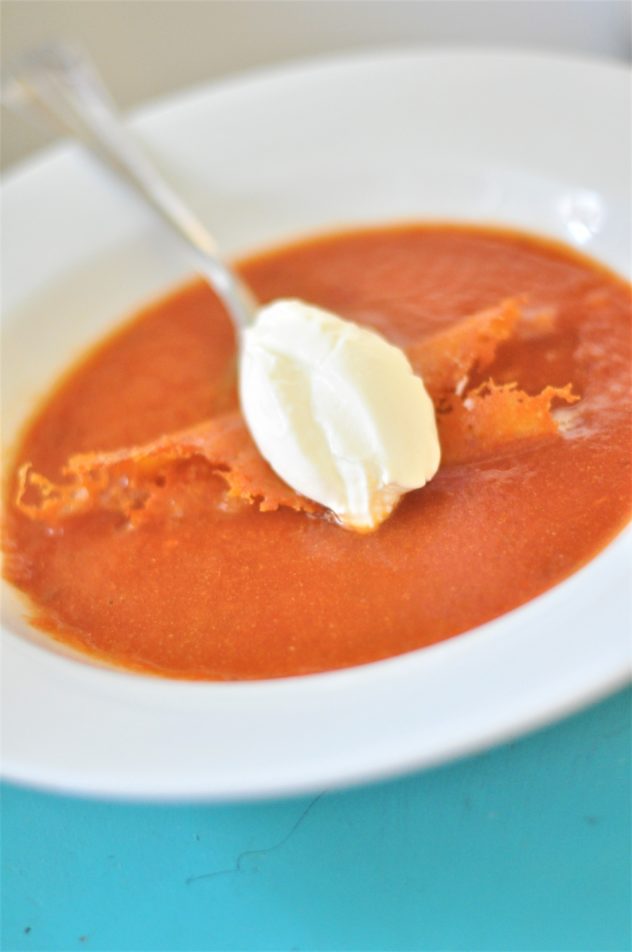 A hearty soup to fill your belly.
Ingredients
5 large Roma Tomatoes
1 28 oz can of crushed tomatoes
2 Teaspoons of basil
2 1/2 cups of milk
1/2 cup of mirepoix (onions, carrots, celery) blend
1 and 1/2 Tablespoons of flour
5 Tablespoons of butter
Kosher Salt
Black pepper
Extra Virgin Olive Oil
Instructions
Preheat oven to 350 degrees
While oven is preheating, slice Roma Tomatoes and place on a sheet pan lined with parchment paper.
Season tomatoes liberally with Kosher Salt, Pepper, Basil and Extra Virgin Olive Oil.
Roast in oven for 15-20 minutes.
On medium heat, in a large, heavy bottomed pot, warm 3 tablespoons of butter and saute mirepoix (onions, carrots, celery) blend for 5-7 minutes, until translucent
Sprinkle with flour and stir.
Season with pepper and kosher salt
Sauté for 5-7 minutes, until flour is cooked
Stir in remaining butter, and combine well
Pour in Crushed tomatoes, stir well.
Add roasted tomatoes to other ingredients.
Pour in 2 cups of milk, stir gently to combine.
Cover and let simmer on medium low heat for 15 minutes
Using an immersion blender, blend the tomato mixture until smooth. I blend until there are a few chunks left.
Stir and serve.
Serve with your favorite sandwich or even a Parmesan crisp.
Notes
optional: top with sour cream, tortilla chips or even goldfish for kids!
FoodLoveTog https://foodlovetog.com/