Happy New Year!! 2016 is here and I've got goodness to share. The Spaghetti Squash has easily become a replacement for pasta and carb filled starches, and I can't say that I'm mad about it. It's light, can be seasoned just as pasta would, and it's kid friendly. Kid friendly can be a blog post on its own. I'm lucky that Little FoodLoveTog will try just about anything I cook, so I was elated that this was meal that she enjoyed eating with her little hands. Turkey Sausage, Tomatoes, & Peppers.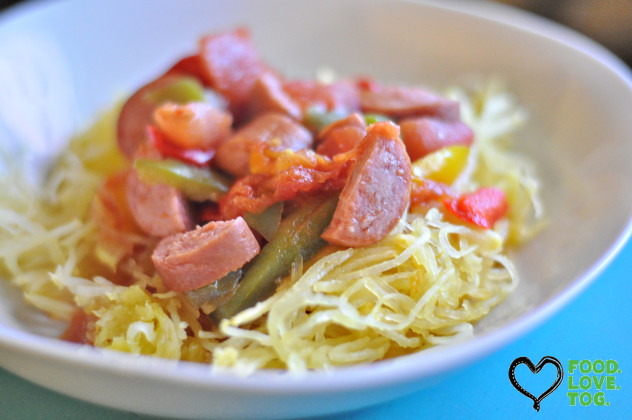 This has been go-to staple on nights that I'm short one time and need to feed the crew something hearty. Growing up, my family served this dish with either rice or pasta, and I was glad that spaghetti squash could lend it hand in a healthy way. Gather up the best of peppers, tomatoes and your favorite sausage, and put this dish on the table. You'll be glad you did! Grab the simple recipe below: Spaghetti Squash with Sausage & Peppers.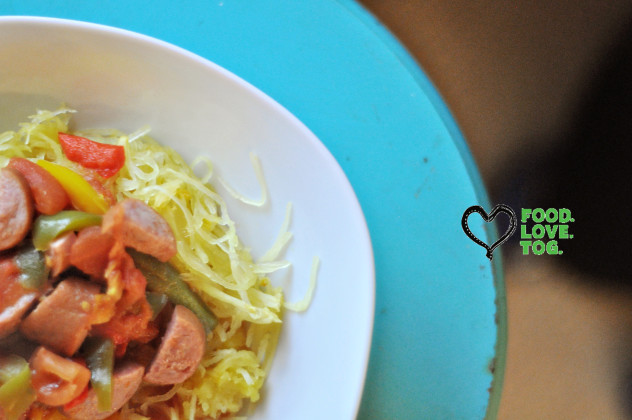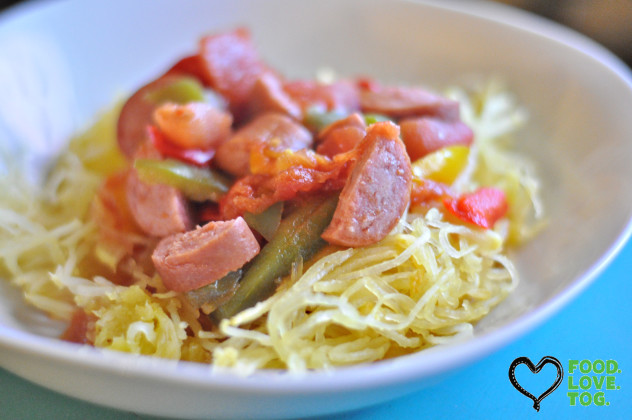 Spaghetti Squash with Turkey Sausage & Peppers
2016-01-02 11:13:15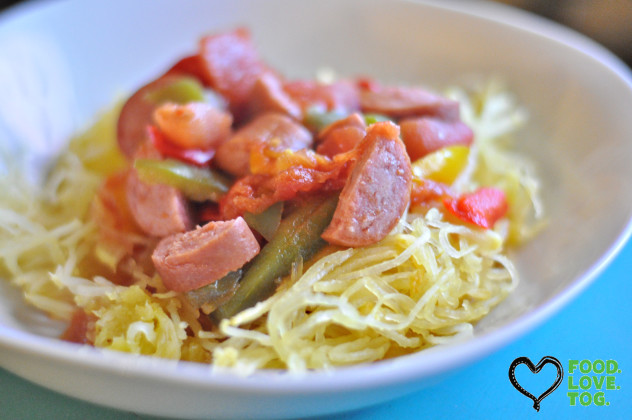 Serves 4
Light, flavorful, and hearty. You'd never know you weren't eating pasta!
Ingredients
1 Spaghetti Squash (1 &1/2-2 pound)
2 cups Tri Pepper & Onion Blend
1 28 oz Can Diced Tomatoes
12 oz Package Turkey Sausage (I really like Applegate brand)
1 Teaspoon Minced Garlic
2 Tablespoons Olive Oil
Pinch Salt
1 Teaspoon Italian Seasoning
Pepper to Taste
Instructions
Pre-Heat Oven to 425 degrees
Slice Spaghetti Squash in half, and scoop out seeds and membrane
Season cavity of squash with 1 tablespoon olive oil, salt & pepper
Place on Baking sheet and roast in oven uncovered for 35 minutes until tender
While the squash roasts, heat oil in a skillet
Dice Sausage and cook in skillet until lightly browned.
Add Tri Pepper Blend, and saute for 2-3 minutes until soft, add tomatoes and stir
Season with Italian seasoning, stir and cook on medium-low heat until flavors are well blended (25 minutes)
Remove Squash from oven, and shred cavity with two forks.
Plate a serving of squash into a deep bowl.
Top with Sausage, Tomato & Pepper Sauce
Serve and Enjoy!
Refrigerate any leftovers.
Notes
This dish is great topped with Parmesan Cheese!
FoodLoveTog https://foodlovetog.com/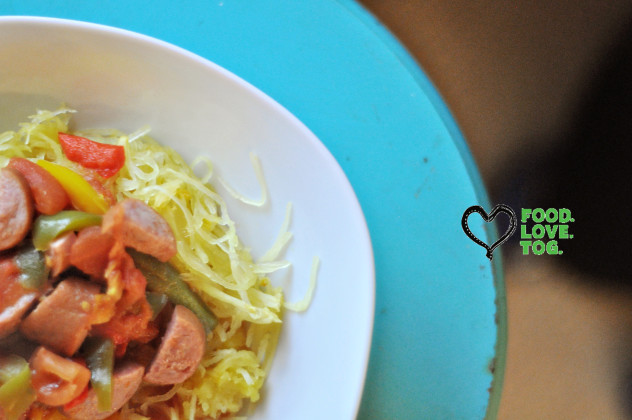 Thanks for reading!
Love God, Love People. Eat Good!