Christmas morning in my home is the epicenter of tradition.The house is glittery and decorated from top to bottom. My favorite Christmas music plays throughout the house. The littlest one is somewhere eating wrapping paper.(This will be her second Christmas, I can't wait to see how she does) When my husband and I first married, we started the tradition of Christmas Brunch in my family. I cook, they feast. It's really the best of both worlds. For the past 8 years, my mom and sister have come over for a delicious meal, filled with sweets, something savory, and bottomless mimosas. It's one event I truly look forward to. This year, I'm upping the sweets ante. Hello, Butter Pecan Bread Pudding Minis.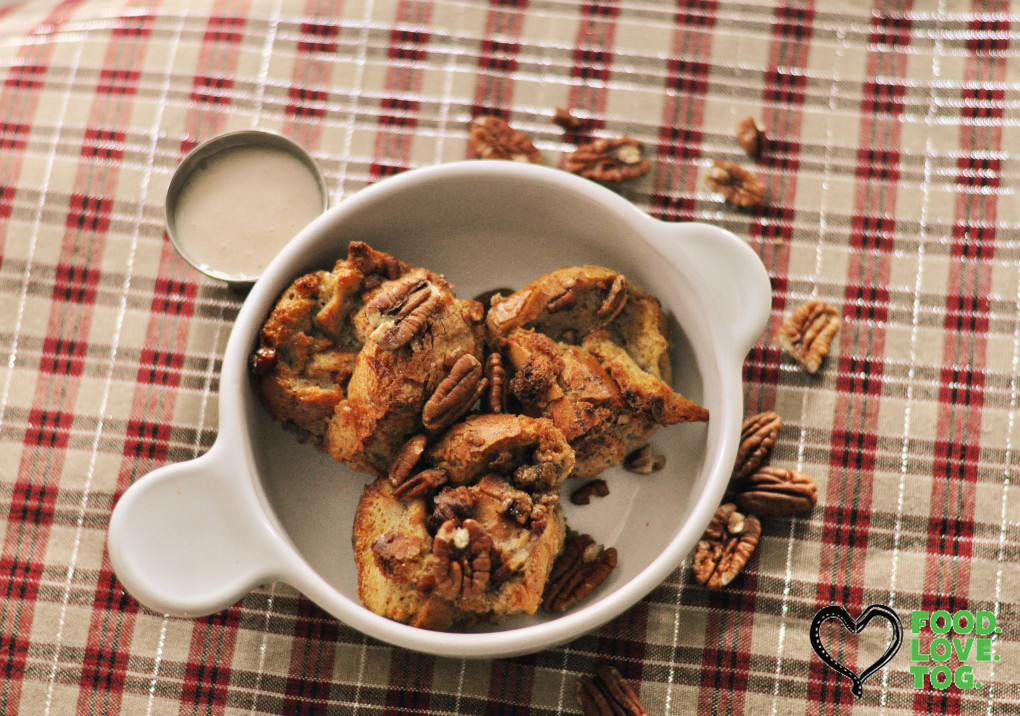 When planning the menu for this year's brunch, I gathered my family and told them I was making something different. I can't say that they were too thrilled with the change at first presentation. I came prepared though. I started working on something sweet. Butter Pecan Bread Pudding Minis with Vanilla Sauce. Hand held. warm and gooey. After testing the recipe on my husband, I think they'll be okay. Butter Pecan Bread Pudding Minis with Vanilla Sauce will grace our table this Christmas. It's just the perfect amount of sweet to compliment, my savory breakfast casserole. It's sure to have it's rightful place at the Christmas Brunch table. It's tradition after all. Grab the recipe below, and tell me about your family traditions in the comments.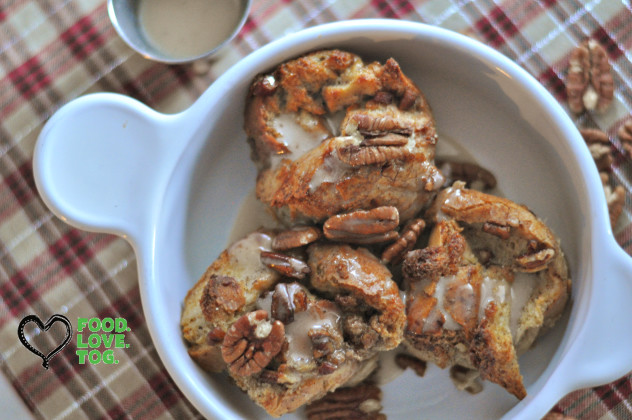 Butter Pecan Bread Pudding Minis
2015-12-01 03:08:02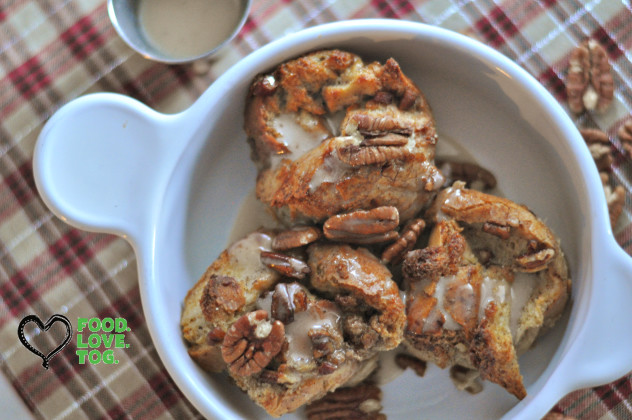 Creamy, Hearty and filled with pecans, enjoy this take on a classic dessert.
Ingredients
1 large day old baguette (Cubed)
Half Stick of Butter (Melted)
1 Cup Chopped Pecans
4 Eggs, beaten
2 Cups Half & Half
3/4 Cup Brown Sugar
1/2 Teaspoon Cinnamon
1+ 1/2 Teaspoons Vanilla Extract
1 Teaspoon Pecan Extract
1/3 Cup Milk
2 Cups Powdered Sugar (Sifted)
Cooking Spray to Coat
Instructions
Pre-heat oven to 350 degrees
Coat a 12 count muffin tin with Cooking Spray
In a large bowl combine Beaten eggs, Half & Half, Brown Sugar, Cinnamon, Melted Butter, Pecan Extract & 1/2 Teaspoon of Vanilla Extract. Mix Well.
Fold in Chopped Pecans.
Combine pudding with cubed Bread and allow mixture to coat bread thoroughly.
Ladle pudding into muffin tins.
Bake at 350 degrees for 42-45 minutes until golden brown or center is set and a inserted toothpick comes out clean.
While bread pudding bakes, Mix Powdered Sugar, Milk and Vanilla Extract to make sauce. Whisk completely until smooth and glossy.
Remove Bread Pudding Minis from muffin tins.
Serve warm with a drizzle of Vanilla Glaze. Garnish with extra pecans.
Enjoy.
FoodLoveTog https://foodlovetog.com/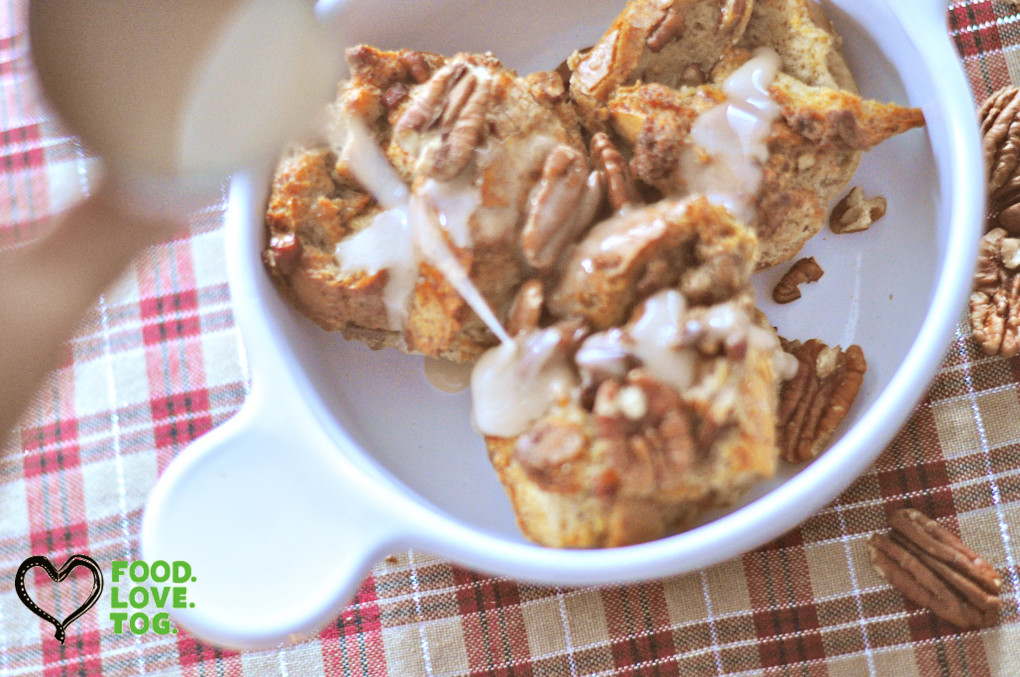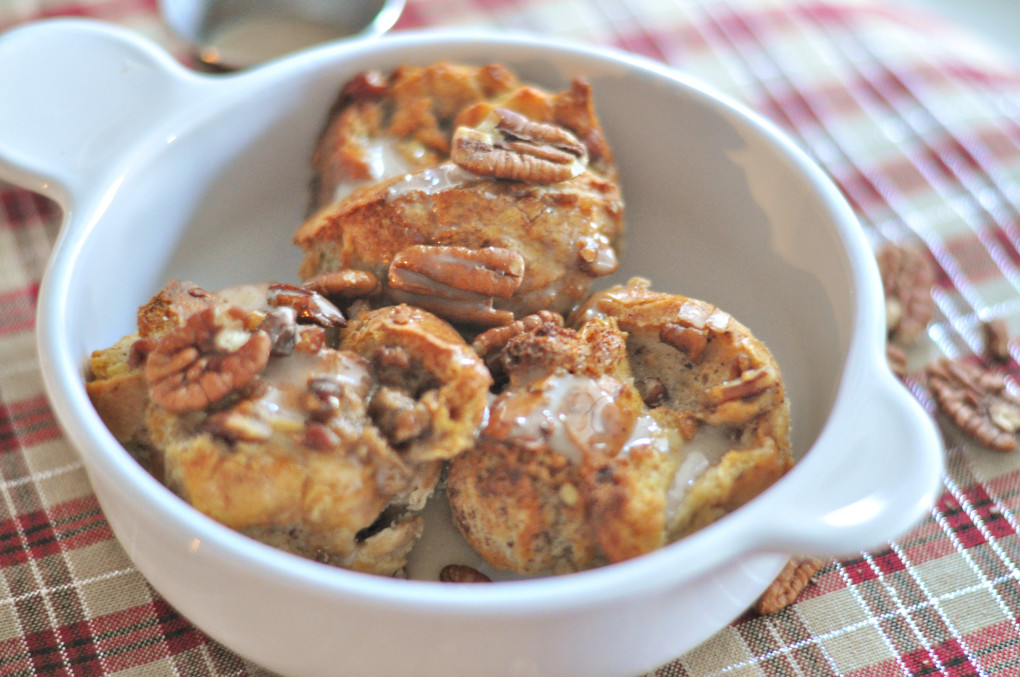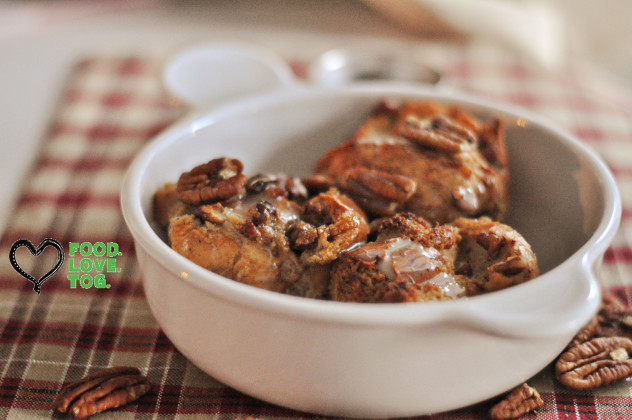 Thanks for reading!
Love God, Love People, Eat Good!