Remember a few weeks ago when I told you that I, the foodie with condiment issues was married to the condiment king? Well sandwiches are where 80% of the condiment usage occurs in my house. Mayo on this, Mustard on this, BBQ sauce on that. I've never met a man that loves condiments as much as my husband. I'm ok with it. I can cook with a condiment all day, but, I typically eat my sammies on the dry side.
Did you know that November is home to National Sandwich Day? Yep. Sammies, Sammies, Sandwiches. They get all the love this month. As they should. A good sammie can change up your day. Enter the pulled Chicken Ranch Sammie.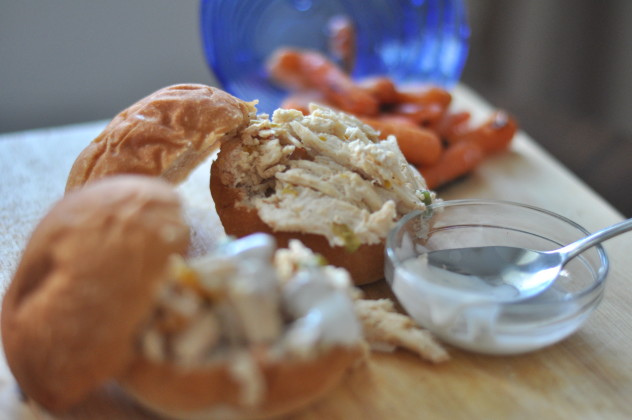 Simple and juicy. Spicy and hearty. Did I mention simple? The slow cooker will do all the work if you let it. Don't take my word for it- Grab your slow cooker and make the recipe below.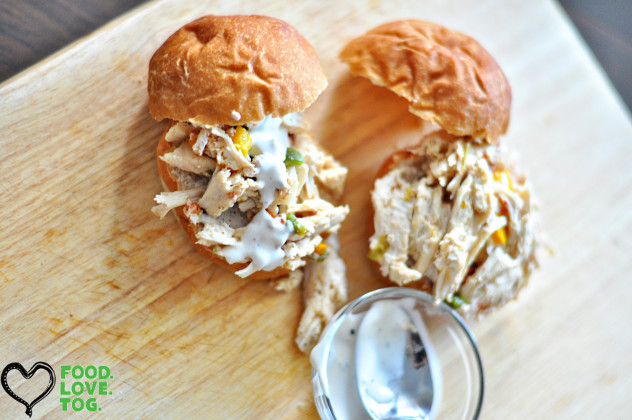 Pulled Chicken Ranch Sammies
2015-11-02 20:33:30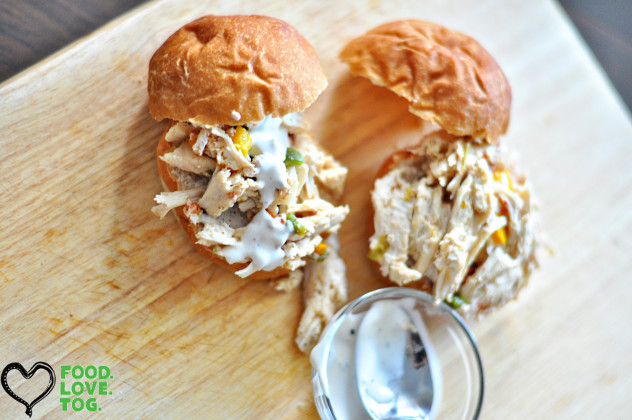 A tender, juicy, chicken sammie to serve to your favorites big and small.
Ingredients
2 Boneless Skinless Chicken Breasts
3 Boneless Skinless Chicken Thighs
1 & 1/2 cups Tri Pepper & Onion Blend
Salt
Pepper
Paprika
Cumin
Garlic Powder
1/4 cup of Ranch Dressing* recipe in the notes.
Your favorite mini sandwich bun (toasted)
Instructions
In a large slow cooker place chicken breasts, thighs, and tri pepper blend.
Season liberally with Salt, Pepper, Cumin, Paprika & Garlic Powder
Cook on high for 4 hours until juices run clear and chicken reaches and internal temperature of 165 degrees.
Remove chicken from slow cooker and place on a study plate or in a deep bowl.
Using your hands or two forks, gently shred chicken apart
Pile Chicken and vegetables atop a toasted bun.
Garnish with Ranch dressing drizzle.
Serve with your favorite chips or carrot fries.
Notes
FoodloveTog's Homemade Ranch Dressing
Ingredients
¾-1 Cup Chilled Buttermilk
½ Cup Duke's Mayonnaise
½ Cup Sour Cream
1 Small squeeze of Fresh Lemon Juice
Pinch Salt (adjust to your liking)
1 Teaspoon of garlic powder
¼ Teaspoon of Paprika
Several Cracks of Black Pepper
1 Tablespoon Fresh Chopped Chives
1 Tablespoon Fresh Chopped Parsley
1Teaspoon of Fresh Chopped Dill
Instructions
In a bowl, combine buttermilk, mayonnaise, sour cream and mix well, until combined.
Add Lemon juice, salt, garlic powder, pepper and herbs, still until thoroughly combined.
Taste, and adjust salt or pepper as needed.
Chill covered until ready to serve.
*Dressing will keep in the refrigerator up to 4 days.
* To make blue cheese dressing, add 4 oz of Crumbled Gorgonzola Cheese and stir to combine.
FoodLoveTog https://foodlovetog.com/