I have a confession.
I'm addicted to Trader Joe's. I tend to go several times a week, often times not needing anything, but I go because I just love it. The unique grocery store is home to thousands of items that are typically their own store brand, but my TJ's is starting to carry a larger variety of beer and wine. I'm here for it. Things are pretty inexpensive there too, the key is watching for the flyer and knowing when to drop in!
Today I'm sharing 5 things that I love to get at Trader Joe's. These 5 items are always in stock at my house. I don't play about them!
1. Uncured Bacon Ends and Pieces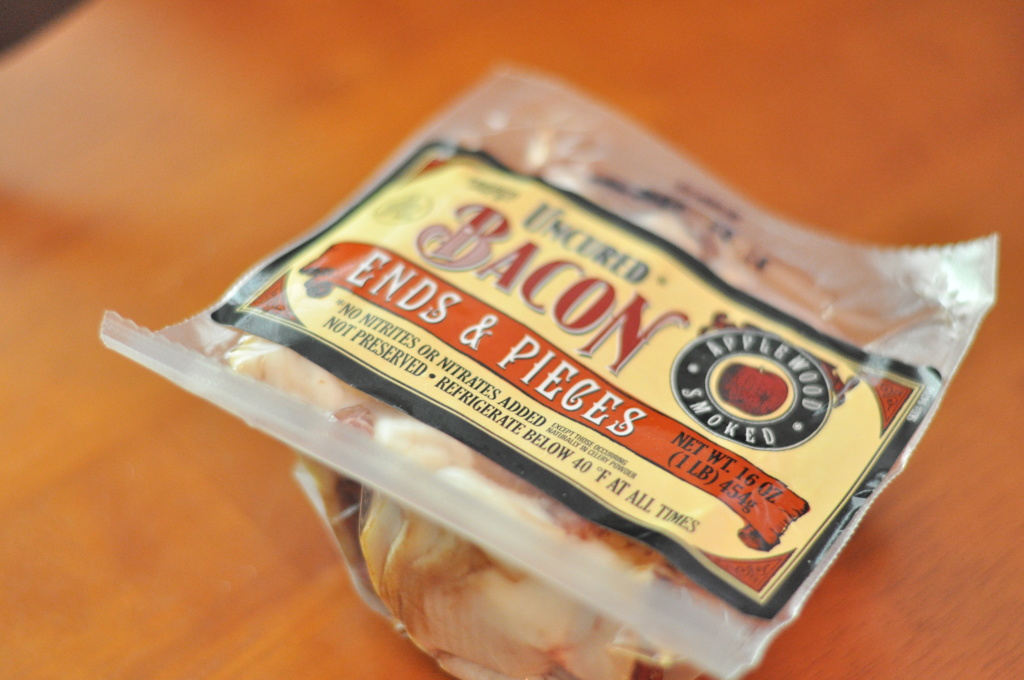 This little package of happiness is 16 oz of pure genius. It's only fitting that I start my TJ's lovefest with bacon. Bacon Ends and Pieces. The leftover end and bacon scrap pieces that didn't make it. Am I sad? NOPE! Those little pieces, mostly fat, are perfect for seasoning up a pot of green beans, cabbage, brussels sprouts and any other dish where you would use bacon. I like to use the longer ends to wrap around a little chicken thigh or tender and bake them up in the oven… Goooodness. $3.49 for the package.
2. Frozen Green Beans
Frozen Haircot Verts. This large package of French Green Beans is $1.99 and I can make about 5 meals with one bag. Pre Trimmed, Washed and ready to go, these Green Beans take all the guess work for you. Grab them in the Frozen Section. I used them in a recipe
3. Lindemans's Peche and Raspberry Lambic
Ciderlike Belgium beers that I just love. I tried a similar version of this beer at a local watering hole and began serious search for one after trying it. Whatdoyaknow? Trader Joe's was hiding this beer all along. $9.99 for a large 10oz bottle. I keep it on hand.
4. Trader Joe's Sparkling Limeade.
ADDICTED. There really is no other way to describe my love for this beverage. As soon as it rolls onto the shelf, I'm buying it in multiples. Light, Tangy and delicious. Typically runs about $2.39 a bottle. Grab a recipe where I feature it here
5. Trader Joe's Probiotic Yogurt
This stuff is yummy!! Grab it by the 4 back and enjoy it. Even my littlest foodie dines on this buy. About $2.50 for the 4 pack. My favorite flavor is Strawberry.
*Honorable Mention: Trader Joe's Bagged Kale & Fresh Boneless Skinless Chicken Thighs
Pre-chopped, washed, and bagged, I literally buy a bag everytime I'm there. Perfect for a quick saute of kale, onions, sugar and a splash of vinegar. Yum. Yum. Typically is $2.99 for 10 oz bag.
Boneless skinless chicken thighs. My favorite. So much so, that they are usually out of stock! Look folks… buy them somewhere else. These chicken thighs are mine! I used them in this recipe
What are some items that you just have to grab when you're at Trader Joe's?
Drop your faves in the comments.
Thanks for reading!
Love God. Love People. Eat Good!