Hey there!
A few weeks ago a friend asked me "What all do I need in my kitchen to make me a great cook?" Interesting question right? Well that got me to thinking… Some people may not know some of the basic items you should have in your kitchen to effectively prepare what I call "good eats" So here we are. New series. Kitchen Basics. We're going to cover the things that help make your cooking easy and your kitchen effective. The cast of players: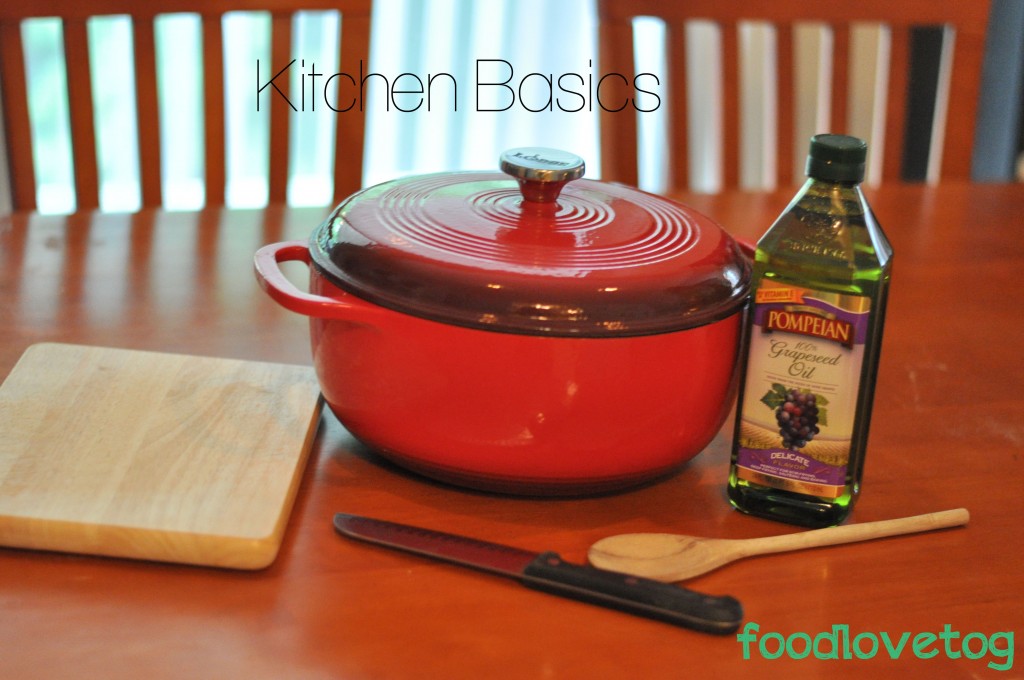 First up- The drivers of the kitchen- a quality set of knives. They don't have to be uber expensive, but they should be sturdy, have strong handles, and be sharp. I like this Kitchen Knife Set Always hand wash our knives. Putting them in the dishwasher dulls them and can even ruin your knife.
The use of a good set of knives means you need quality cutting boards. It's a good idea to have several. I don't like to mix my raw meat with my raw veggies so I have a cutting board specifically for meat and one specifically for veggies. I also have wooden butcher block for carving of meats.  Grab these  and these if you're looking for a set.
The Wooden spoon. Sturdy, dependable. I use them in almost everything. A good wooden spoon can hold up to your yummy spaghetti sauce, and scrape the yummy bacon bits of a pan in no time flat. Check these out if you don't have a set.
After you chopped your good eats, you'll need something to cook them in. I post a lot about using a Dutch oven.  A dutch oven is basically a heavy bottomed pot. There are many different types of Dutch Ovens. Do a little Google search.. your head will spin. The Dutch ovens I have are cast iron enamel. The cast iron enamel Dutch ovens are great conductors of heat and can be used on top of the stove as well as in the oven. I have the following: Lodge Braiser Small Each of them serves a unique purpose.A Dutch oven, can fry, roast, braise, bake, steam.. The possibilities re truly endless.  There are several more expensive brands, go by what is in your budget. I can attest for the items I have in my kitchen, they've lasted through out years. If you're looking for the high end brand Le Creuset, I suggest checking your local TjMaxx, JCP or Macy's before paying full price. Save a couple of coins if you can.
Lastly, After you chopped your good eats you'll need a good oil for searing, frying, or roasting them in. In the image, I have grapeseed oil pictured, but I currently use the following in my home: Canola Oil, Extra Virgin Olive Oil, Vegetable Oil and Vegetable shortening. Each fat has it's on job. I chose to feature grapeseed oil in this post, because grapeseed oil has a high smoke point and it can pretty much do any and everything.
I hope this kitchen basics guide has been helpful to you. Next time we'll talk about a few spices that are staples in my kitchen. Yes, there will be Paprika!
Disclaimer: The items listed in the links above are to be used as a guide. You don't have to use the brands, nor do I claim that these brands and items are the best. The links posted are items that I have either used or believe to be comparable to what I use in MY kitchen. Purchase those brands at your own risk. No claims have been made nor have I been compensated for listing these brands in this post. 
Thanks for reading.
Love God, Love people. Eat Good.